*If you live in Louisiana or Mississippi Ground Shipping is available. All other states MUST select 2nd Day Air Shipping to ensure your King Cake arrives fresh. We fulfill and ship orders MONDAY - WEDNESDAY, orders that are received on THURSDAY or FRIDAY will be processed the following Monday. Orders will be changed to reflect this option if not selected. King Cakes will be available from January 6 - March 2 2017.">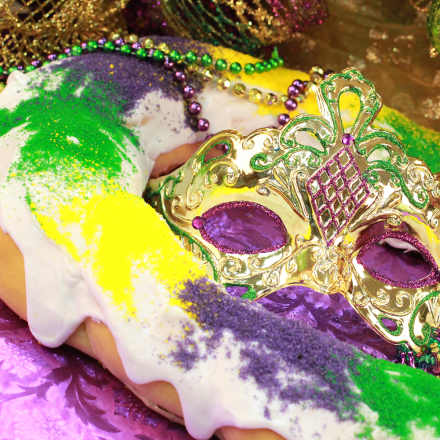 Strawberry & Cream Cheese King Cake Carnival Pack
This customer favorite uses our classic Danish dough and is filled with fresh strawberry and cream cheese that will make you want to scream "Throw me somethin' mister!"  Your King Cake will arrive with the King Cake story, Mardi Gras beads, doubloons and a porcelain mask so you can celebrate Carnival season with your friends and family. *If you live in Louisiana or Mississippi Ground Shipping is available. All other states MUST select 2nd Day Air Shipping to ensure your King Cake arrives fresh. We fulfill and ship orders MONDAY - WEDNESDAY, orders that are received on THURSDAY or FRIDAY will be processed the following Monday. Orders will be changed to reflect this option if not selected. King Cakes will be available from January 6 - March 2 2017.
Not Available Online
---

---
Our products are made, processed, and packaged in the great state of Louisiana. Lucky for you, we ship all over the country.